i360 phone banking can be accessed via smartphone app or web browser.
Before phone banking, you will receive an email from i360 with the username and password for your account.
First – select the script that matches your current issue or campaign. If you're unsure of which script to use, ask a Team Leader or Staffer.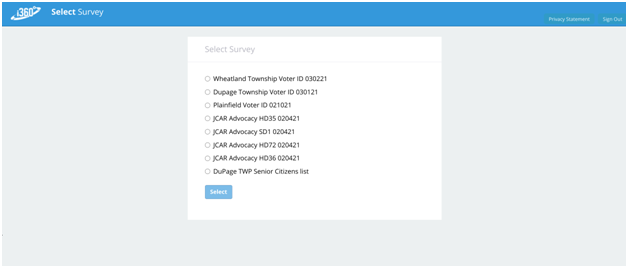 i360 will then show a preview of the script you'll be using.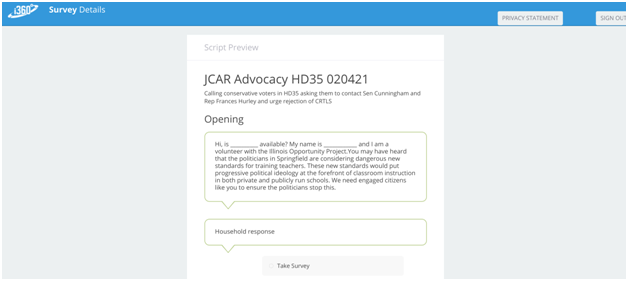 Scroll to the bottom and click Continue.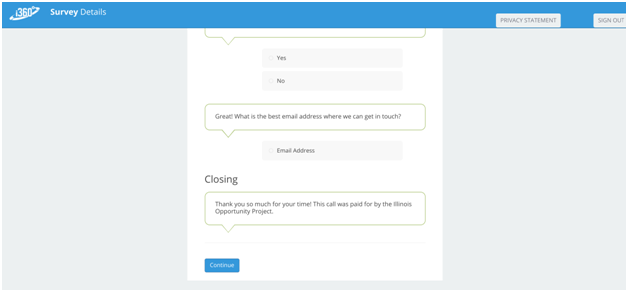 Choose Your Calling Method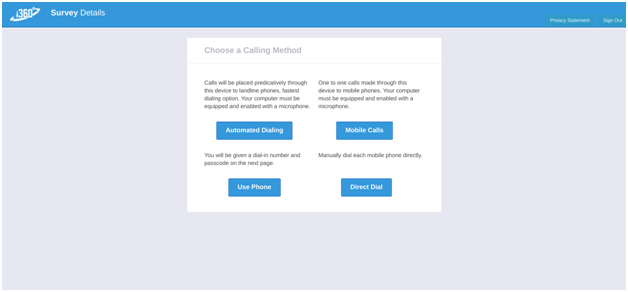 i360 allows you to choose from four calling methods. No matter which option you choose, your personal phone number will never show up on caller id: 
Automated Dialing is recommended in almost all cases. Calls will be placed to multiple landline phones and you will be connected to the voter who picks up while the others will be sent to voicemail. This method allows you to contact the most voters, in the shortest amount of time, maximizing your impact. 
For legal reasons, automated dialing cannot be used to call cell phones. The Mobile Calls method calls cell phones one at a time. 
This option is sometimes useful for troubleshooting a weak wifi connection. You will be given a conference call line to dial into, then voters will be connected to that line. 
This option will show a phone number on the screen and you will manually dial the number into your phone. This is the only option that exposes your phone number to the voter. There is almost no reason to use this option. 
Press Take Call when you're ready to make a call!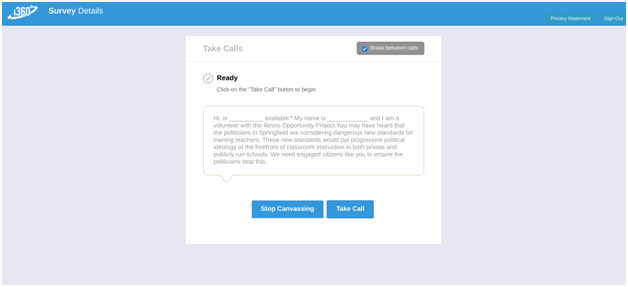 While you wait for a call to connect, you have the option to customize your hold music.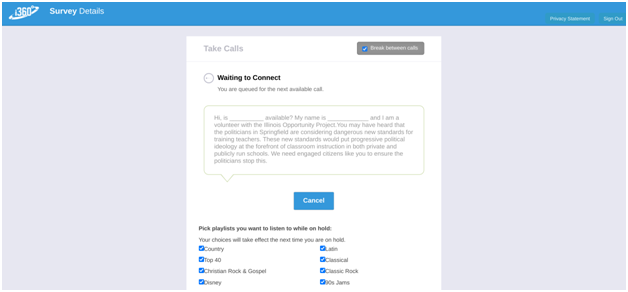 After you connect to a voter, you'll see the household address, phone number, and all members of the household.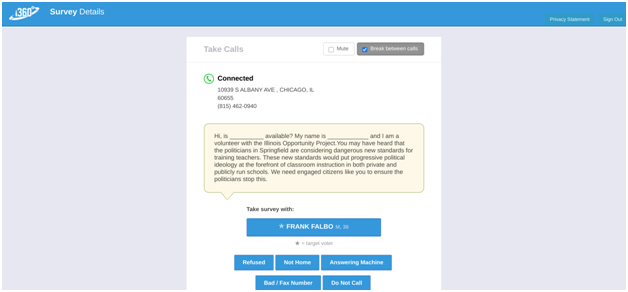 *Note the star next to Frank's name – that means he is the targeted voter (the person we want to talk to).
If Frank answers, you'll click on his name to take a survey. More on that below.
A refusal is when a voter answers the phone but is not willing or able to talk right now. They could be in the middle of dinner or running out to soccer practice. 
Not home is a catch-all category for no answer without dropping a voicemail message. Not home also applies if someone answers the phone but the voter is not available. 
If you reach a voter's voicemail box, you'll click the answering machine option. Once selected, i-360 will display a voicemail script for you to read. Click done after reading your script and the system will move on to the next call.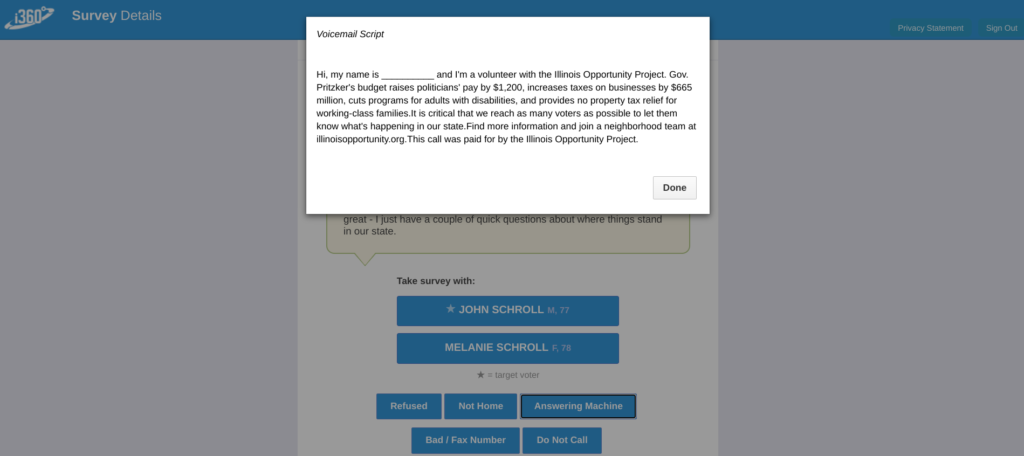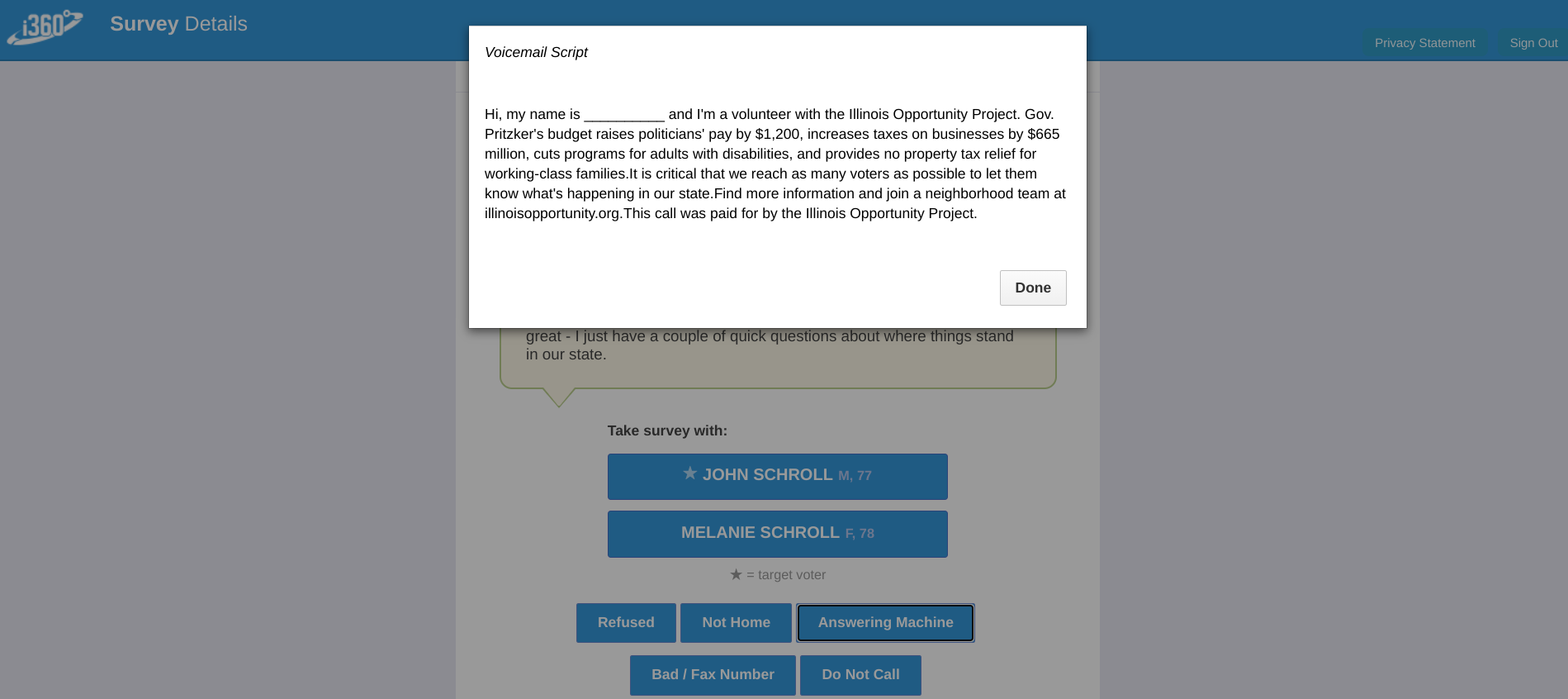 This category is a catch-all for any type of disconnected number, fax machine, or wrong number. It also applies to phone numbers that use screening services such as Nomorobo. 
Do not call is a legal category that permanently removes a phone number from our list. It should be used only when a voter tells us specifically to never call again or to remove them from our list. It should not be used for voters who may be willing to talk but are unable to at the moment. Such cases are properly considered refusals. 
If a voter from our list answers the phone, you'll click on their name to take a survey with them.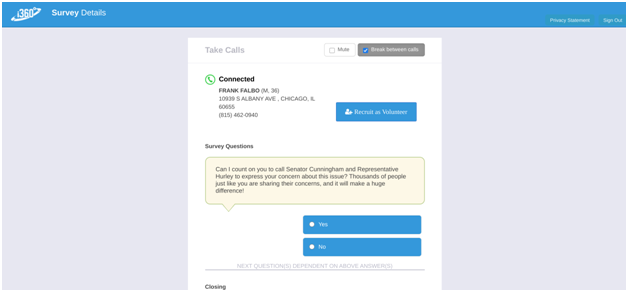 The first question will appear with options for their answer. Only the first question is shown because what we ask next depends on what they say! 
After all questions are answered, you'll click Hang Up & Submit Answers and you'll return to the Take Calls page.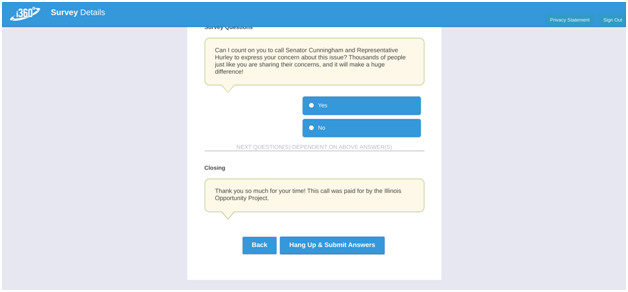 Frequently Asked Questions
The app or website dropped my call, what do I do?
Like all technology products, I-360 isn't perfect. Please be patient. The most common cause of dropped calls is not being connected to the internet or having internet that is too slow to carry on the phone conversation. Please ensure you are connected to your home or offices wifi network and try again. If this does not solve your problems, e-mail [email protected]. 
How many calls should I make?
Successful first time callers make around 50 calls during their initial session (about 45 minutes). Committing to 50 calls ensure you are familiar with the system and builds comfort with calling voters. Calling voters for the first time can be nerve racking, but it gets easier and folks just like you are doing it all across the state. 
Will my phone number show up on caller ID's?
Your personal phone number will never show up on voters' caller id. By using the I-360 system you ensure the caller ID for the campaign or organization shows up. Voters will not be able to contact you, or see that you called. 
Now! You are calling about critical issues that impact the daily lives of everyday families — They need to hear from you! Our issues can win! If we work together and educate people one at a time we will be successful. Join us in changing the state for the better!