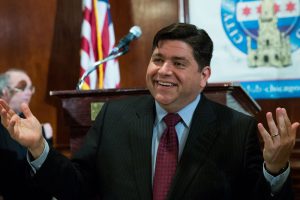 July 10, 2020
Back in March, many Illinoisans were satisfied with Gov. Pritzker's decision to move the tax filing deadline to July 15, following suit with the federal government. Delaying the deadline was a move intended to soften the blow that many Americans are facing as a result of the coronavirus pandemic. This was a fair decision on behalf of struggling families and small businesses, but the Pritzker administration should have done more.
To Gov. Pritzker, moving the deadline was a facade to pretend that he understands the financial concerns of Illinoisans. He temporarily avoided backlash from leaders in his party and residents alike. Attempting to signal that he cares about you.
But he doesn't.
If Governor Pritzker cared about your financial situation, he would recognize that Tax Day is not the only economic concern of people across Illinois. We asked for relief, we urged Pritzker and the General Assembly to remove the graduated income tax hike from the ballot and instead, he doubled down, claiming we need higher taxes "now more than ever."
If Governor Pritzker cared about your job, he would have factored this into his two-month stay-at-home order. In his attempt to ensure public health, he cost thousands of Illinoisans their livelihoods. Unemployment is at a record-breaking high, and those filing for unemployment are unable to get the service or help they need thanks to a disorganized and flawed system. Delaying the state tax deadline does not fix these problems.
If Governor Pritzker cared about you, he would have removed the Progressive Tax Amendment from the ballot in November. Instead, he recently poured in $51.5 million from his own fortune to bankroll the movement and assure he gets more of your hard-earned money. He has betrayed any trust you have left in him.
The graduated income tax will hurt over 110,000 small businesses in Illinois and put thousands of jobs and livelihoods on the line for the sake of progressive posturing of a policy that has failed in every state that it has been tried.
If Governor Pritzker cared about anyone other than himself, then maybe we'd have a shot at some real change.
But until then, it's time to stop the taxes and send more people to Springfield who actually do care.
Take action and join our efforts and stop tax-hiking Pritzker from taking more of your hard earned money!
GET INVOLVED: