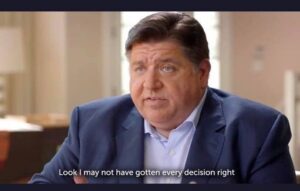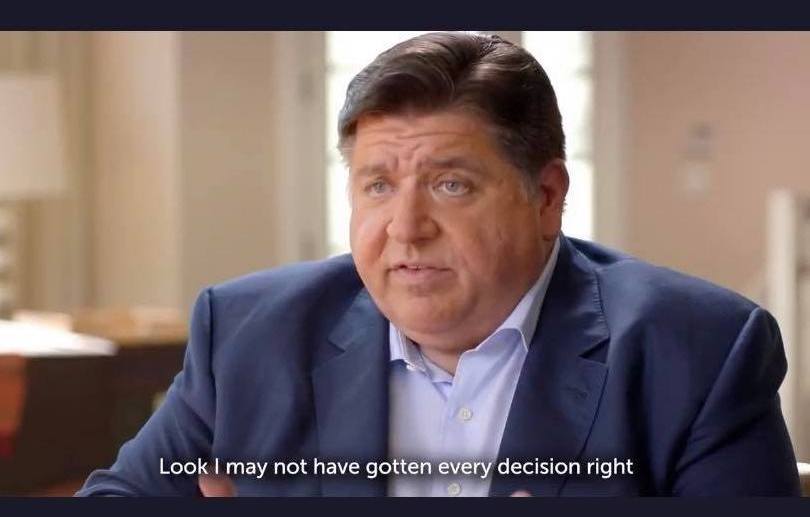 July 20, 2021
By: Katie Clancy
After playing coy for months, Gov. Pritzker finally launched his re-election campaign yesterday. He may have thought he was keeping us on the edge of our seats, but the $35 million donation to his own campaign a few months ago was a not so subtle tell that he would run again. 
His announcement video was revisionist history on what the state of Illinois has endured under his failed leadership for the past three years. Let's go through some of those failures to refresh our memory on why the state is in desperate need of new leadership.
Pre-Pandemic
Although most of the video focuses on his handling of the COVID crisis which we will get into later, let's talk about pre-pandemic Illinois first.
Gov. Pritzker's first budget hammered us with 19 tax and fee hikes, including the infamous gas tax that has Illinois drivers saddled with some of the highest gas prices in the nation. It also included pension sweeteners for teachers unions and education funding that rarely makes it into the classroom and ends up propping up bloated administrative costs.
Also during this time, we experienced another Chicago Teachers Union strike that kept CPS students out of the classroom, another failed property tax task force that did nothing to lower property taxes, a failed ethics commission that did nothing to curb corruption at the statehouse, and the passage of the graduated tax hike Amendment through the General Assembly.
In 2019 and the early months of 2020 we also had the indictments of Sen. Tom Cullerton, who still serves in the Illinois Senate, Rep. Luis Arroyo, Sen. Martin Sandoval, and the beginning of the raids on Mike Madigan's closest political confidants.
Pritzker's first year forewarned us for what was to come for the rest of his governorship: more taxes and more corruption.
The Pandemic
The COVID-19 pandemic truly led the country and our state into unprecedented territory. It was scary. People were anxious about the unknown, people got sick, people lost their jobs, and people died.
The Governor was right about one thing, we did see communities come together to support one another. Businesses stepped up and provided sanitizer, PPE, meals for first responders and hospital workers, and countless other selfless acts to give back and lend a hand during a hard time.
But just like any other crisis, politicians like Gov. Pritzker got drunk with power. During this time of economic turmoil and uncertainty, Gov. Pritzker passed an unbalanced, record-spending budget. He continued to campaign and spent $56 million funding his Tax Hike Amendment that would've cost the typical family of four $3,500 and would've raised taxes on over 110,000 small businesses. This is all while 35% of Illinois small businesses had to permanently shut down. In addition to the threat of more tax hikes, the Chicago Tribune released an investigative report that found Chicago businesses suffered $165 million in damages after the looting and rioting that summer.
Some of the other egregious highlights and missteps throughout the year included the devastating deaths of 36 veterans at the state-run LaSalle Veterans' Home. The veterans' home workers were using faulty sanitizers and weren't following proper health and safety protocols all while Pritzker's political appointee who was in charge of keeping our veterans safe was missing in action.
Gov. Pritzker also spent millions in state money on faulty PPE and gave out much sought after business interruption grants to defunct businesses.
The Illinois Department of Employment Security has been an epic failure and left desperate Illinoisans on hold for hours, waiting for benefits for weeks, exposing their private information, and ranking worst in the nation for reporting unemployment fraud to the federal Department of Labor. The Department has also failed to reopen any of their offices to the public.
To add to the madness, while businesses were forced to shut down again and kids still weren't back in the classroom in most areas, Gov. Pritzker was dancing in the streets celebrating Joe Biden's victory. It was hypocritical and cruel.
Where We Are Now
Despite a devastating political blow with the rejection of his Tax Hike Amendment, Pritzker kept trekking on with more bad policies. He signed a "police reform bill" that was uniformly rejected by all law enforcement agencies across the state. The bill will end cash bail statewide in two years and prevents police officers from approaching criminals and protecting our communities, our families, and our property. Meanwhile, Chicago is on track to see one of its deadliest years in decades.
The pandemic also didn't stop federal investigators. They indicted Sen. Terry Link with tax evasion and are finally circling in on Prrizker's top ally the infamous former Speaker of the House, Mike Madigan. In light of the Speaker being under the microscope of federal investigators for his involvement in the alleged ComEd bribery scandal, Gov. Pritzker thanked Madigan for his service upon his resignation.
After so much loss of in-person instruction, his Board of Education prioritized injecting politics into the classroom with the "Culturally Responsive Teaching and Leading Standards." Still, the fight to return to the classroom from the teachers unions isn't over just yet. Chicago Public School teachers are now threatening not to return to school in the fall without an 80% vaccination rate among students. Gov. Pritzker was nowhere to be found on this issue and abdicated the battle to get kids back in the classroom. But we knew whose side he was on after he rewarded and empowered teachers unions even more this year granting them with more bargaining rights to strike.
And last but not least, this year's budget raises politicians' pay by $1,200, increases taxes on businesses by $665 million, cuts programs for adults with disabilities, and provides no property tax relief for working-class families.
Gov. Pritzker's fancy TV ads may try to convince you that the state is on the right track, but his actions and record of failure tell a different story. As he says in the commercial, "Look I may not have gotten every decision right," your tax bill and your neighbors for sale sign will remind you of the cost of those bad decisions.
The state can't endure another four years of failed leadership from Gov. Pritzker. Join our movement to return power back to the people and away from politicians:
GET INVOLVED: