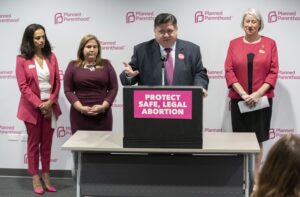 May 4, 2023
By: Katie Clancy
After failing miserably to pass a tax hike on small businesses and families during a global pandemic, Speaker Chris Welch announced that he and his Democratic colleagues will not be proposing the Tax Hike Amendment as a ballot initiative in the 2024 election.
Although, just as recently as a few weeks ago, Governor Pritzker said, "I still believe in a graduated income tax."
Pritzker's double down on this deeply unpopular policy speaks volumes to his intentions to be the most progressive governor in the country in his pursuit of a possible presidential run in 2028.
It also makes sense as to why Speaker Welch in the same forum tossed around the idea of enshrining access to abortion in the state constitution and putting that referendum on the ballot in 2024.
These progressive priorities of "taxing the rich" and unlimited abortion access may be popular amongst Gold Coast liberal elites and the MSNBC audience, but thousands of Illinoisans feel differently.
According to the IRS, 105,000 Illinoisans left the state in 2021 and took some $10.9 billion in income with them.
Meanwhile Florida and Texas that have no state income tax gained $39.2 billion in adjusted gross income and $10.9 billion respectively.
The push to prioritize extreme social issues and the failure to rein in state spending and high taxes are not only pushing productive people of the state but are jeopardizing the quality of life for those who do not have the means to leave.
GET INVOLVED: