By Matt Besler
Over the course of a challenging, yet ultimately rewarding year, we were reminded, again and again, that there are so many reasons to believe in Illinois.
We want to take a moment to say, 'Thank You.' Thank you for your phone calls, letters, and emails. Thank you for responding to the "Legislative Action Alerts," and for introducing us to your family, friends, co-workers and associates. Thank you for your persistence in telling the legislative bosses in Springfield "No More," and for your resolve to challenge those who uphold Illinois' status quo. But most importantly, thank you for your partnership. Your dedication and determination give us confidence that Illinois' best days are yet to come.
Our cause is gaining traction. The election of a pro-growth governor is a major step forward. It puts the achievement of our ultimate goal within reach: moving Illinois from 48th in job creation to 1st, with household income rising.
Across the nation, there is evidence of the free market movement becoming a driving force in public policy. In Illinois, we stand united at the forefront of this movement.
In 2014, we were proud to advance free-market solutions for Illinois through a variety of initiatives:
We outlined a vision for an Illinois comeback in the book A Great Future.
We conducted policy briefings, and provided training and grassroots support to those who champion and advance free-market policies.
We created mail pieces and videos that educate taxpayers on critical issues and free market opportunities.
We partnered with local and national activists to recruit to the cause, including civic groups, party leaders and activists, independents and others.
Our call center made over 90,000 advocacy, education, and survey phone calls.
We researched and developed policy briefs, positions and talking points.
We produced advocacy blogs and commercials.
Our Featured Speakers promoted the free-market policy agenda at hundreds of events across the state, speaking 3-4 times a week to thousands of people.
We held legislators accountable for their actions in Springfield.
We conducted statewide outreach, advocacy and education programs through strategic marketing programs, events, social media and word of mouth campaigns.
We keep our website updated to serve as a resource for advocates who want to stay current on legislation that is moving through Springfield. Our 'Take Action' page puts the public in direct contact with legislators on key issues.
As we continue to pursue the goal of advancing liberty and free enterprise in the state, we are more convinced than ever that momentum is on our side. Free-market policy solutions are taking hold across the nation. Throughout Illinois, a steadily increasing number of taxpayers express their desire for the equity, efficiency and excellence that is born of free market policy.
Heading into 2015, our commitment to refining and reforming government in Illinois is renewed.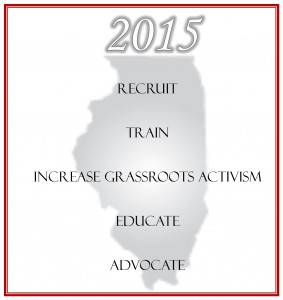 The 2015 municipal elections are just around the corner. They will be our springboard for building issue awareness, educating and engaging voters, and recruiting future General Assembly candidates who will challenge the ruling class and champion pro-growth policies.
Thank you again for your investment in The Illinois Opportunity Project. Day in and day out, we're honored to advance the mission of liberty and opportunity across the state.
With your support, I am convinced that the most exciting and rewarding phase of our journey is ahead.