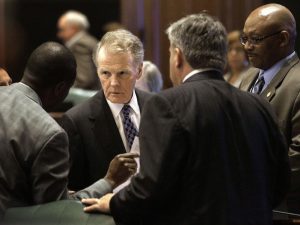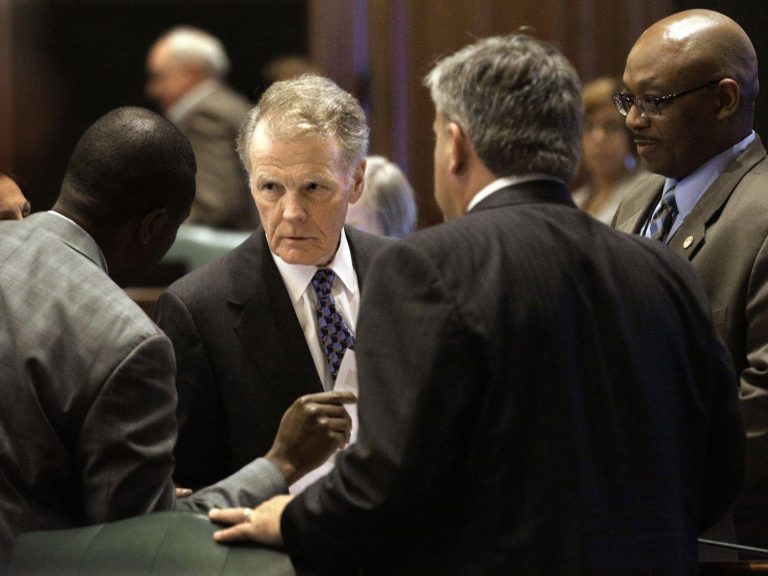 In what will go down as the most predictable vote in the General Assembly this year, the Democrat Majority re-elected Michael Madigan to his 17th term as Speaker. Signaling they are happy with the direction of the state by prolonging their leader's already historical longest reign of a state house speaker in U.S. history.
Madigan remains the most unpopular politician in the state because his policies have hurt families and because of the history of harassment under his leadership.
Yet, all but one Democrat State Representative elected him as leader. Why? He holds the purse strings for their reelection campaigns. This election cycle, Madigan doled out $21.1 million to ensure his agenda, not yours, was passed.
On the campaign trail, candidates and incumbents talked about being independent, about standing up for the middle class.
On the campaign trail, Mary Edly-Allen (D-Libertyville), touted her independence and called for limits on campaign donations. She said, "Limiting campaign donations would force candidates to run on their records, be responsive to constituents, limit the power of lobbyists and corporate donors, and encourage bi-partisanship. This would be especially true of the influence of legislative leaders, who often direct large amounts of special interest money within their own caucuses."
That was until Edly-Allen reached out to Speaker Madigan herself saying she needed help. Edly-Allen went on to accept $857,998 from Madigan, win her race, and elect him as Speaker.
Candidate Diane Pappas (D-Itasca) says on her website that "she was a political newcomer tired of business as usual in Springfield." She claimed she ran for office to "to represent the residents of the 45th District, not the special interests or political leaders."
After receiving $1,473,524 from Madigan, when the time to demonstrate independent leadership came, Rep. Pappas, along with all Edly-Allen and all their Democrat colleagues voted for Madigan.
These legislators just like Madigan, claim to be "on your side." But how is that working out?
Families here are hurting. Whether it's the highest property taxes in the nation, the $133 billion of unfunded pension liabilities, the current budget deficit running at about $1.5 billion, or the $16 billion in unpaid bills, don't expect Madigan or the legislators who re-elected him to bring about solutions to put the state on the right track.
Families continue to flee while those left behind continue to get fleeced. The current Democrat majority under Madigan is not offering any sustainable policies to at least signal to taxpayers and businesses that they are serious about reform.
Instead, they are going to be asking you for more of your hard earned money. It may be in the form of a gas tax, progressive income tax, or their best yet, will be to attempt to balance the budget on the backs of gamblers and marijuana smokers. These failed policies will continue to force hardworking taxpayers out of their homes and have Illinois remain as an unattractive state to start a business or raise a family.
And it isn't just his policies that hurt people. As the #metoo movement swept the nation, Madigan with the help of these Democrat enablers proved he was powerful enough to withstand the credible, numerous accusations alleged against high ranking members of his staff as well as a letter signed by 300 women who work in the state house of the culture of harassment and abuse they have experienced. These harassment scandals continue with an incoming legislator saying she was victimized last month.
Democrat State Representatives aren't putting you first. By voting for Madigan and his rules, they are putting their power first. Whether it's Illinois families, victims of harassment and assault, or small business owners, your interests are subsumed by political power and greed.
There is no "new day" in Illinois but instead, a continuation of the decades of an inept, self serving state government ruled by Mike Madigan and his willing servants.
2018 General Election Madigan Contributions (Prairie State Wire)
| | | | | |
| --- | --- | --- | --- | --- |
| District | Candidate | Hometown | Total from Madigan | Vote For Madigan As Speaker |
| 48 | Terra Costa Howard | Glen Ellyn | $1,546,160 | Yes |
| 55 | Marty Moylan | Des Plaines | $696,965 | Yes |
| 45 | Diane Pappas | Itasca | $1,473,524 | Yes |
| 49 | Karina Villa | West Chicago | $1,441,820 | Yes |
| 53 | Mark Walker | Arlington Heights | $1,433,803 | Yes |
| 111 | Monica Bristow | Godfrey | $1,368,859 | Yes |
| 62 | Sam Yingling | Grayslake | $1,074,384 | Yes |
| 61 | Joyce Mason | Gurnee | $740,249 | Yes |
| 116 | Jerry Costello, II | Smithton | $710,523 | Yes |
| 76 | Lance Yednock | Ottawa | $567,425 | Yes |
| 17 | Jennifer Gong-Gershowitz | Glenview | $552,608 | Yes |
| 59 | Daniel Didech | Buffalo Grove | $466,122 | Yes |
| 112 | Katie Stuart | Edwardsville | $347,015 | Yes |
| 46 | Deborah Conroy | Villa Park | $184,225 | Yes |
| 56 | Michelle Mussman | Schaumburg | $168,351 | Yes |
| 57 | Jonathan Carroll | Northbrook | $96,605 | Yes |
| 96 | Sue Scherer | Decatur | $76,682 | Yes |
| 85 | John Connor | Lockport | $18,251 | Yes |
| 44 | Fred Crespo | Hoffman Estates | $24,860 | Yes |
| 98 | Natalie Manley | Joliet | $45,422 | Yes |
| 51 | Mary Edly-Allen | Libertyville | $857,998 | Yes |
Source: Illinois State Board of Elections