By Matt Besler
The election is over. The people of Illinois have spoken in favor of balanced government and economic opportunity. A concession has been offered. Victory has been declared. But, our work is not done. Those elected must now be held accountable for the promises they made: to support business, protect and restore jobs, champion reforms to our schools, and act independently of their political leaders.
While the election of a pro-growth governor was a victory for the free market movement, it was a victory that would not have been as hard-fought or as vital, if, throughout Illinois' history, legislators had championed thoughtful policy over political calculation.
For years, the taxpayers and businesses of Illinois watched their income and opportunity slip away as legislators made policy decisions that served special interests and fed bureaucracy. Over the past 12 years, free enterprise solutions have been continuously locked out of policy discussions in the state capitol. With the election of Bruce Rauner, that door is now unlocked.
The free market movement is escalating nationally: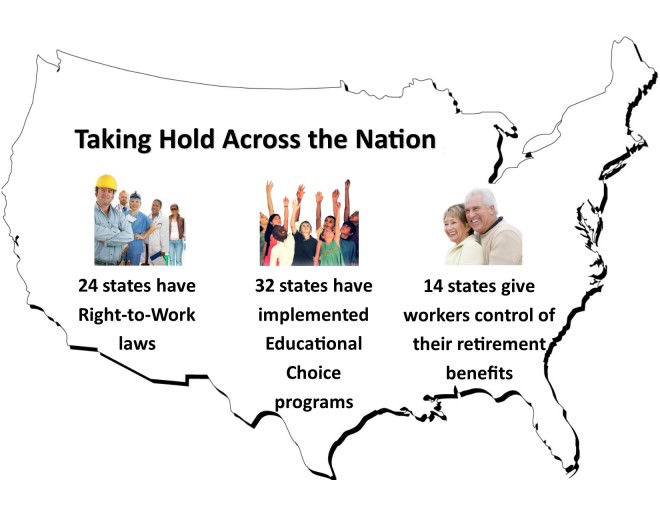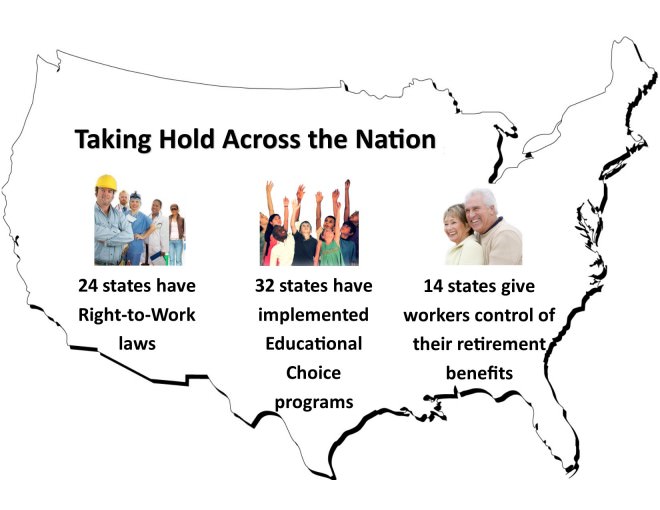 Retirement benefits are being placed into the hands of those who have earned them in 14 states.
Families are empowered to make the best choices for their children across the country. There are 21 school voucher programs in 18 states, plus the District of Columbia and Douglas County, Colorado. There are an additional 14 states with scholarship tax credit programs.
Workers in 24 states, and the US island territory of Guam, are no longer forced to unionize.
These free enterprise solutions are ready to revolutionize Illinois.
However, when the special interests, who are used to having the governor's ear to bend or a legislator's arm to twist, make their demands, those in office need to be able to point to scores of voters advocating for free market policies. They need strength to push back against lobbyists and powerful General Assembly leaders. Most importantly, they need to know that if they fail to keep their campaign promises, they jeopardize their seats in the General Assembly. This is the work of movements. This is our work.
The Illinois Opportunity Project will continue the fight for liberty and for a state government that works for the people:
We will hold legislators responsible for their campaign promises, and their votes.
We will offer support to those who champion free market ideas. We will continue to oppose those who propagate the outdated, incorrect idea that government, as opposed to individual ingenuity, can foster prosperity or economic opportunity.
We will lead policy briefings and grassroots training for advocacy leaders.
We will research and develop policy briefs, positions and talking points, as well as produce advocacy blogs and commercials.
We will continue to partner with local and national activists to recruit to the cause, including civic groups, party leaders and activists, independents and others.
We will continue statewide outreach, advocacy and education programs through strategic marketing programs, events, social media and word of mouth campaigns.
We will steward strategic policy through leadership, including letters to the editor, op-eds, media tours, press releases and lobbying.
We will keep our website updated to serve as a resource for advocates who want to stay current on legislation that is moving through Springfield. Our 'Take Action' page puts them in direct contact with legislators on key issues.
We will mobilize our on-the-ground local activists, who are ready and poised to engage and inform voters of the policy choices moving through Springfield.
Join our Policy Revolution and stand with us on the frontlines of this movement.