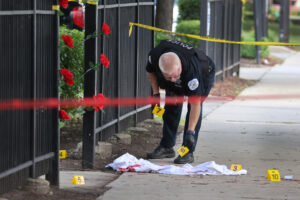 May 16, 2023
By: Katie Clancy
To much fanfare last month, Chicago was announced as the host city for the Democratic National Convention. Governor Pritzker tweeted that he's "thrilled" Chicago was chosen to host the Democratic National Convention. And Mayor Brandon Johnson said, "Chicago is a world-class city that looks like America and demonstrates the values of the Democratic Party."
But lately, Chicago is getting nationally recognized for all the wrong reasons, and those policy failures and so-called "values" will only be on further display during the 2024 convention under Mayor Johnson's leadership.
Assuredly, celebrating the progressive policy agenda of protecting a woman's unrestricted right to an abortion, abolition of cash bail, and the recent assault weapons ban made it in the pitch for the Democratic National Committee. 
I would have to guess that the deadly crime wave most likely didn't make it into the slide deck.
Chicago politicians scoff at the focus on the City's deadly crime problem, but that doesn't make it not true. 
In fact, 63% of Chicagoans feel unsafe. And rightfully so. According to the Journal of the American Medical Association, a new study finds that more than half of all Chicagoans will witness a shooting by age 40.
For all the talk about protecting women from the "attacks" on their rights, these same politicians ignore the fact that 67% of Chicago women feel unsafe.
Most recently, those fears became reality when 24-year-old Chicago Police Officer Areanah M. Preston was murdered in outside of her home after returning home from a late-night shift. All three men and one juvenile charged with her murder have extensive criminal backgrounds. 
Officer Preston was betrayed by the city she volunteered to graciously serve.
The question that should be posed to newly inaugurated Mayor Johnson, Cook State's Attorney Kim Foxx, Gov. Pritzker, and the rest of the DNC, for that matter, is, what incentive is there to NOT possess or carry an illegal gun in Cook County?
Because if we look at court records and the extensive history of the criminals who murdered Officer Preston, there doesn't seem to be one.
Do their "values" supersede the lives of brave women like Officer Preston and the thousands of other crime victims in the city of Chicago?
Chicago's policies and so-called values fail to prioritize our most vulnerable residents and put every Chicago family's safety at risk.
What more will it take for the state and City's political class to rethink their values and face reality?
As violent crime continues to persist, Chicago will remain in the national spotlight for all the wrong reasons, and the City's issues will only be further amplified in August of 2024.
GET INVOLVED: