First – allow i360 Walk to access the location of your device.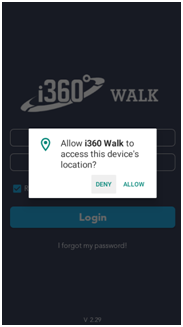 Then, select the script that matches your current issue or campaign. If you're unsure of which script to use, ask a Team Leader or Staffer.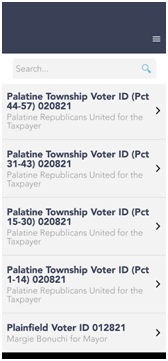 i360 will then confirm the script you'll be using. Press Start.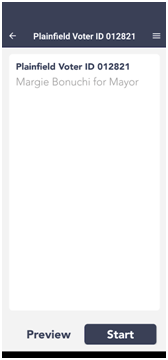 Then you'll choose your walkbook.
Pick your walkbook based on assignment or geography, and remember to coordinate with the rest of your team.
Black walkbooks have not been started. Yellow walkbooks are partially complete.
Click on a walkbook to show how many voters it contains. This is the number of voters, not the number of households. Click on the name to select. Then choose start.
Once you've selected your walkbook, you'll see a map of the targeted households.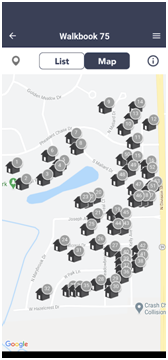 Start at house number one or the house closest to you.
Click on the house to show the address. Click again to select, then choose "Get Started.". 
After selecting the household, you'll see the greeting script and a list of household members. *Note: the targeted voter will have a star next to their name.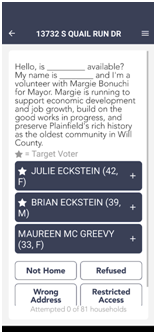 As you approach the house, you'll want to put away your phone. Voters typically are less willing to talk if they see you reading from a script or inputting data. If a voter answers the door, attempt to build a connection with them and walk them through the survey using the script provided as a guide. After you finish the conversation and leave the home, you'll pull your phone back out and click on their name (more on this later).
Not home is a catch-all category for no answer at the door. Not home also applies if someone answers the door, but the voter is not available. 
A refusal is when a voter answers the door but is not willing or able to talk right now. They could be in the middle of dinner or running out to soccer practice. 
Wrong address applies when the voters on our list no longer live at the listed address.
Restricted access is a broad category for all situations where we are physically unable to reach the door. This could be a gated community or apartment complex. It could be a large dog or posted no trespassing signs. *Note: a home with a no soliciting sign is not restricted access.
If a voter from our list answers the door, you'll click on their name and then take survey. 
The first question will appear with options for their answer. Only the first question is shown because what we ask next depends on what they say!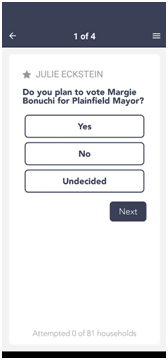 After all surveys are completed, you'll click finished with household, and you'll return to the map.
Frequently Asked Questions
How many doors should I knock?
Successful first-time door knockers hit around 25 households during their initial session (one walkbook shared with a partner). Committing to 25 households ensures you are familiar with the system and builds comfort talking to voters. Knocking doors for the first time can be nerve-racking, but it gets easier and folks just like you are doing it all across the state. 
Should I knock on doors that have "no soliciting" signs?
If you're comfortable! We're not selling anything and we have a First Amendment right to canvass as affirmed by the Supreme Court. If someone asks you to leave, thank them for their time and move on. 
The app is malfunctioning, what do I do?
Like all technology products, i-360 isn't perfect. Please be patient. Check-in with your team leader. If this does not solve your problems, e-mail [email protected]. 
Now! You are talking to voters about critical issues that impact their lives — They need to hear from you! Our issues win! If we work together and educate people one at a time, we will be successful. Join us in changing the state for the better!