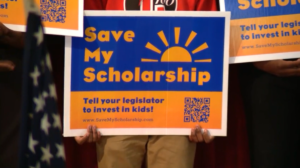 November 10, 2023
Illinois continues its losing streak as it becomes the first state in the nation to roll back one of the state's only family empowerment programs- the Invest in Kids Act.
Due to the inaction of the General Assembly and Governor Pritzker, over 9,000 working families will have to scramble to come up with the funds to keep their children in the schools they love or be forced to return to their failing or unsafe neighborhood school.
Another 25,000 families who were on waiting lists for better opportunities will be left disappointed and overlooked over once again by the elites in Springfield.
Out-of-touch politicians, who exercise educational freedom for their children, succumbed to pressure from powerful teachers unions and decided to take that choice away from everyday families.
Every child regardless of their family's income or zip code deserves the best education that fits their individual needs. We will continue to stand with families, hold hypocritical politicians accountable and advocate for policies that will improve lives.
GET INVOLVED: