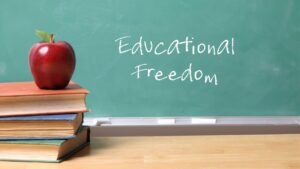 October 17, 2023
By: Katie Clancy
In a new report from the American Legislative Exchange Council (ALEC), Illinois receives a failing grade for education freedom. The report "evaluates each state on essential policies that change students' lives by empowering parents and families with choice in education."
The scoring categories look at education funding mechanisms such as education savings accounts and vouchers, while also analyzing homeschooling policies, autonomy of charter schools, virtual schooling, and open enrollment.
Neighboring state Indiana received an 'A' grade while our other Midwestern neighbor Iowa received a 'B.'
Florida, the fastest growing state in the country, also received an 'A.'
Education policy remains top of mind for over 30,000 Illinois families who are fighting to save the state's only school choice program, the Invest in Kids Act, as veto session begins next week. 
Without an extension of the program that is set to expire, over 9,000 families will lose their scholarships and the over 20,000 on the waiting list searching for better opportunities will be left waiting indefinitely.
Governor Pritzker and legislators are actively denying educational freedom for all Illinois families who do not have the financial means to send their children to a private school or move to a better school district that best suits their kids.
The demand for educational freedom from families is there, but is there political will from the legislators?
Contact your legislator below urging them to make the Invest in Kids Scholarship program permanent: