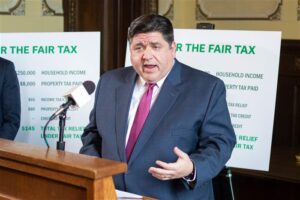 Illinois residents resoundingly rejected Governor Pritzker's Tax Hike Amendment in 2020 that would've raised taxes on Illinois families and the over 110,000 small businesses in our state.
Now, it turns out that proponents of the graduated income tax did not learn their lesson and want to try again. Sen. Robert Martiwck (D-Chicago) plans on reintroducing a bill that would change Illinois' flat tax to a graduated income tax within the next month.
Don't give the same legislators who just voted to give themselves an 18% pay raise more power to hike your taxes.    
SIGN BELOW TO STOP THE GRAD TAX