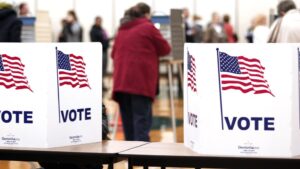 October 31, 2023
By: Katie Clancy
Progressive activists have been hitting the ground hard this year, advancing bad policies that consolidate power for the elite and hurt working families.
In the midst of what seems like an overhaul of progressive successes, we would like to highlight a couple of local wins in areas that are not typically "moderate."
The Evanston City Council was considering eliminating their sub-minimum wage as Chicago did earlier this fall. Thankfully, on behalf of local restaurant owners, tipped employees, and restaurant patrons, they decided not to go forward with the policy.
This ill-intentioned government mandate hurts both small business owners and tipped employees. Washington D.C. is phasing out its sub-minimum wage and is already seeing problems where customers are frustrated with restaurants, including high service charges to offset labor costs and resulting in fewer tips for staff.
Another big progressive push this year was ranked-choice voting at the local and state levels.
Thanks to your advocacy, the General Assembly settled on a task force that will study the possibility of using RCV in the 2028 Presidential Primary.
Because of that win at the state level, Oak Park pumped the brakes on their village referendum, asking voters if they want to implement RCV in their local elections. The Village President and other trustees stated they wanted to wait for the results of the task force to get a better idea of the additional costs of implementing the new voting system and the effects it could have on voter turnout.
Two hot-button progressive issues were successfully thwarted thanks to average citizens coming together and putting a stop to these overreaching and disruptive government policies.
Join our movement to advocate for policies that improve the lives of working families in Illinois and stand up to the self-serving politicians who are only in it for themselves.
GET INVOLVED: