By Matt Besler
Recently, Judge Jon Belz declared that the pension reform bill (SB1), signed into law in December 2013, was unconstitutional. If the Illinois Supreme Court upholds this decision, it will intensify the state's rising fiscal pressure.
The judge ruled that the non-impairment clause of the constitution, which states that "membership in any pension or retirement system of the state… shall be an enforceable contractual relationship, the benefits of which shall not be diminished or impaired," is "plain" and "unambiguous" and thus cannot be violated.
State officials have argued the modifications are necessary to prevent financial disaster, but Belz said no circumstance, no matter how dire, justifies any modification – even of future benefits.
"The court finds as a matter of law that (the state's) affirmative matter provides no legally valid defense… The pension protection clause contains no exception, restriction or limitation for an exercise of the state's police powers or reserved sovereign powers. Illinois courts, therefore, have rejected the argument that the state retains an implied or reserved power to diminish or impair pension benefits."
The cost of public-sector pay and benefits, combined with billions of dollars in unfunded pension liabilities for retired government workers, are weighing down state and city budgets.
The Illinois Policy Institute reports that the state's unfunded pension liability has reached a new high: $111 billion. A $48 billion increase since 2009.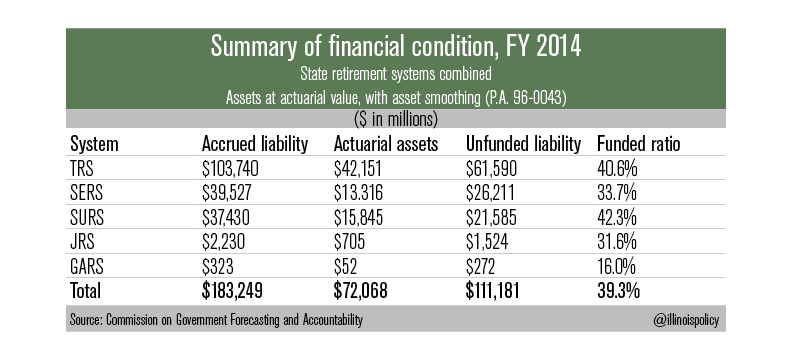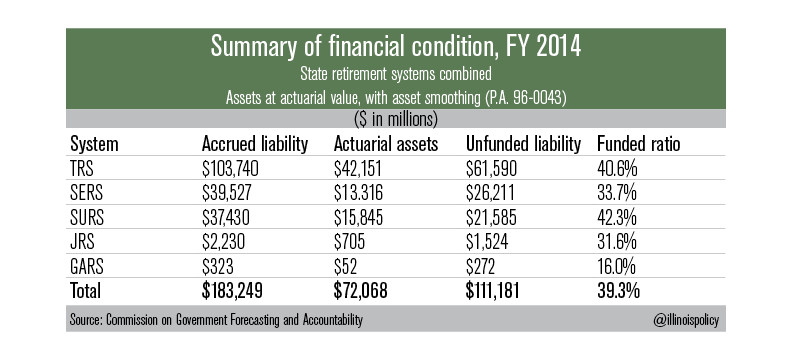 Graphic courtesy of Illinois Policy Institute
The state's inability to reduce these liabilities means that future taxpayers will have to pay hundreds of billions of dollars in higher taxes just to make up for the bad fiscal policy of the past. In addition to the state's ballooning pension liability, the Comptroller's Office lists Illinois' debt total at $127 billion. Compounding the problem is the fact that Illinois has been on a borrowing spree. The state has borrowed $16 billion in the past four years, including two pension bond sales in 2010 and 2011.
Fixing problems of this scale is never easy.  When the Illinois Supreme Court offers its position, legislators must be ready to act. Visit our 'Take Action' page and tell your legislator to support true pension reform.