By Matthew Besler
One of the best parts of my job is having the opportunity to meet people across the state from all walks of life. I frequently speak with families who have a loved one with a developmental disability, or a chronic or terminal illness. People who, through no fault of their own, have to rely on the state's healthcare system for support services, medication and critical care. It is heartbreaking to hear of the bureaucratic maze a family has to run through just to obtain services for their loved one. Or, in the event that an issue can only be resolved through litigation, they must incur substantial personal debt.
For these families, the consequences of broken political promises and unfunded budgets are irreversible and devastating.
Day in and day out, they live with the uncertainty and anxiety of knowing that politics can easily tip the scales against them, and they may have to confront the heartache of losing critical services or support. In this case, they will have to face the kind of pain that nobody and nothing can ease.
Today, we watch parents of children with developmental disabilities or other illnesses paraded in front of Speaker Madigan's Committees-of-the-Whole to testify in favor of his unbalanced budget. I believe that the way these families are being used is reprehensible.
For decades, the Speaker and his party expanded the Medicaid roles with full knowledge that the state could not afford to sustain them. In 2012, a private vendor was brought in to help rein in out-of-control costs associated with Illinois' nearly $20 billion Medicaid program. Of the nearly 500,000 cases the vendor reviewed, almost half were identified as being ineligible for benefits. Another 58,000 cases were eligible for some benefits, but not the benefits they were receiving. Overall, the review yielded an eligibility error rate of more than 60 percent.
How did Speaker Madigan and his majority party respond to news of this significant error? They fired the contractor who uncovered it. The reason? The American Federation of State, County and Municipal Employees (AFSCME), a public sector labor union, said state workers should have been the ones conducting the audit – even though the state failed to properly do the job in the first place.
Medicaid Cancellations Before and After Maximus (July 2012 through August 2013)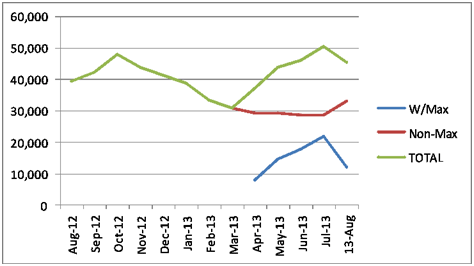 For all of their rhetoric claiming to protect those most in need, neither liberal tax and spend policies nor big government healthcare policies have protected families from having to face the indignity of pleading for their child's life in front of a roomful of the legislators who have been using them as political cannon-fodder for decades.
Illinois Democrats have refused to reform even the most blatant errors in state systems. Today, following 12 years of Democrat rule, we are ranked in the bottom five states in the nation in terms of serving our most vulnerable. The best Speaker Madigan has to offer is more of his "We Have a Revenue Problem" schtick, and an unbalanced budget.
That is not leadership. And it is not good enough. We have to ensure that our truly vulnerable citizens are receiving the services they need. Legislators need to pass and work within responsible budgets so we can continue to provide benefits in the future. We need to have some honest conversations. And we need to make tough decisions about our budget.
Those in the majority party could have used their unchecked authority over the past decade to put policies in place that would have provided for and protected our most vulnerable. They have failed to do so, opting instead to protect their own political power.
We may not be able to change the past. But we can move forward with purpose and insight. We can usher in a new generation of leaders who cherish opportunity, and who will advocate for an improved quality of life for all Illinoisans. We can elect leaders who will act to protect people, like those I've met, who find themselves in desperate situations through no fault of their own.
Join our Policy Revolution today. Stand up to Speaker Madigan. Stand up to the political ruling class. Stand up for our families.