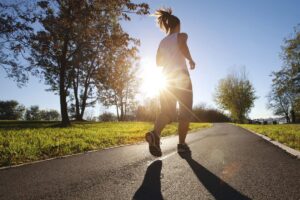 March 29, 2022
By: Katie Clancy
There is a very narrow list of policies that politicians use to pander under the guise of "women's issues." And none create more enthusiasm than the topic of abortion.
That's the issue that gets the marches, the slogans, and the campaign cash.
Unfortunately, the one that is typically forgotten, but should be at the top of the list, is public safety.
In a worldwide survey conducted by Adidas, 92% of women have safety concerns about outdoor running.
More locally, a recent Chicago Sun-Times poll found that 67% of Chicago women feel unsafe. Tragically, 87 women were killed in Chicago in 2022 and 19 so far in 2023. That includes a one year old and 4 year old little girls.
The problem isn't the lack of representation from women in powerful elected offices. 40% of office holders in Illinois's state legislature are women, as well as the Lieutenant Governor. Chicago has a woman mayor, a woman Cook County State's Attorney, and a woman Cook County President. Yet, their policy decisions show the concern surrounding public safety is very low on their agendas.
The General Assembly just passed one of the most egregious anti-public safety laws in the country with the so-called 'SAFE-T Act.' This legislation has zero support from law enforcement officials and brought state attorneys from both sides of the aisle together to file a lawsuit objecting to the legislation, which is currently being heard in the Illinois State Supreme Court.
Cook State's Attorney Kim Foxx celebrated at the bill signing ceremony for this egregious legislation and has a terrible record on public safety in her own office.
Mayor Lightfoot arguably lost her reelection bid in February because of her failure to keep crime down in all Chicago neighborhoods.
Cook County President Toni Preckwinkle celebrated now mayoral candidate Brandon Johnson's resolution to defund the police and "redirect money from the failed and racist systems of policing."
Women deserve to feel safe in their own neighborhoods carrying out normal activities to lead a productive life.
It's time that all elected officials in our city and state, especially those who claim to champion "women's issues," put petty politics aside and empower law enforcement to hold criminals accountable.
GET INVOLVED: