By Pat Hughes
The negative ads are off the air. The robo-calls have ceased. Yard signs are being put away. Election Day has come and gone. And now, the real work begins.
Illinois elected a new Governor on Tuesday.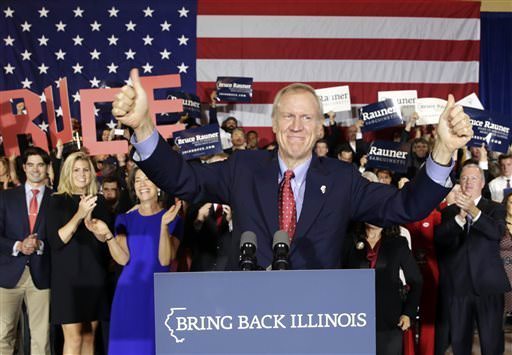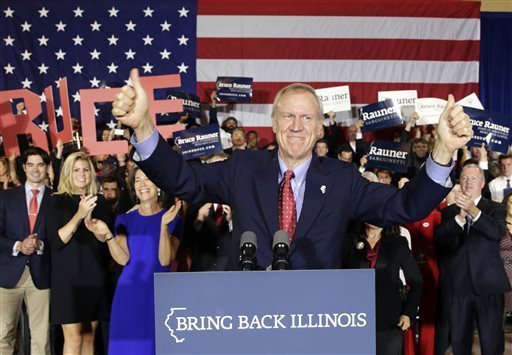 For six years, Pat Quinn presided over the decline of our once great state. His particular brand of fiscal mismanagement and crony capitalism gave us record high unemployment and record low bond ratings. His particular brand of partisanship stoked resentment, class warfare and division.
He claimed to be the governor of "the many," while all along "the many" suffered job loss, failing schools and uncertainty. He perpetuated an environment where only the politically connected could thrive. This was especially true for powerful public sector unions. They were his political army, enriching him with massive amounts of cash and manpower to crank out the vote. He was their policy flack, promoting, and then protecting, their financial interests at the literal expense of your interests.
But, the great people of our once great state finally had enough. They saw in Bruce Rauner a chance to change course. Remarkably accomplished in private business, Rauner credibly (and tirelessly) advocated a pro-growth agenda focused on revitalizing our economy by lowering our tax burden, fixing our failed public pension system, and reducing regulations on job creating small business. A supporter of education reform in his private life for years, Rauner successfully argued that he could help transform education in Illinois – especially for those trapped in sub-par schools where the odds against future success are staggering.
As a result, Rauner's election has provided us with the most precious offspring of liberty – opportunity.  But, that opportunity comes with contention. House Speaker Michael Madigan has the votes to stand in Rauner's way, and so he will. Therefore, we must – must – weaken Madigan's grip by electing liberty principled, pro-growth legislators into the General Assembly in 2016 and beyond. That work starts now.
The 2015 municipal elections are just around the corner. They will be our springboard for building issue awareness, educating and engaging voters, and recruiting future General Assembly candidates who will challenge Madigan and bolster Rauner. So, in the coming months, the Illinois Opportunity Project will:
Recruit
Identify, recruit and train Liberty Leaders for today and tomorrow
Identify legislative pick-up opportunities, vulnerabilities and strengths
Interview and vet potential candidates
Fundraise
Increase Grassroots Activism
Partner with local and national activists to recruit to the cause, including non-traditional GOP groups, party leaders and activists, independents and others
Continue statewide outreach, advocacy and education programs through strategic marketing programs, events, social media and word of mouth campaigns
Steward strategic policy through leadership, including letters to the editor, op-eds, media tours, press releases and lobbying
Educate and Advocate
Monitor and mobilize against Madigan's destructive policy agenda
Conduct conferences, training seminars and campaign schools
Develop the 2015 Legislative Vote Card
Continue our statewide Speakers Bureau
Develop and mobilize coalitions
Maximize voter ID and data management properties
This effort will require unity of both purpose and spirit. We must continue to concentrate our time, talents, and treasure on the achievement of our ultimate goal: a pro-growth Governor, supported by a majority of pro-growth legislators in both chambers. We are half-way there. The remainder is finally within our reach, if we have the courage to persist.
Momentum is most certainly on our side. Free market policy solutions are taking hold across the nation. Throughout Illinois, a steadily increasing number of taxpayers express their desire for the equity, efficiency and excellence that is born of free enterprise policy. At the Illinois Opportunity Project, we stand at the forefront of this movement. Join our Policy Revolution, advancing liberty and free market solutions. Together, we can – we will – make our once great state great once more.