By Pat Hughes
State retirees, taxpayers, politicians and union bosses are waiting anxiously as the fate of Illinois' unsustainable pension system now hinges on the opinion of the seven men and women who make up the Illinois Supreme Court.  The Court is deliberating a case that may determine whether the Governor and State Legislature can reform Illinois' insolvent pension system.
The law in question, Senate Bill 1 , was designed to chip away at the state's $111 billion unfunded pension liability. SB 1's modest reforms include an increase in the retirement age for some government employees, a reduction in annual cost of living adjustments, and a (generous) cap on the amount of an employee's salary that can be considered when calculating his or her pension benefits. It does not reduce core pension benefits.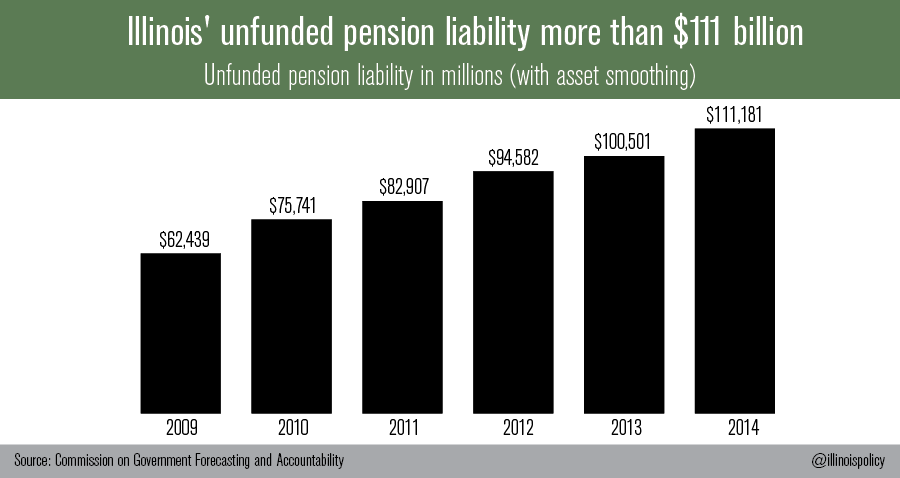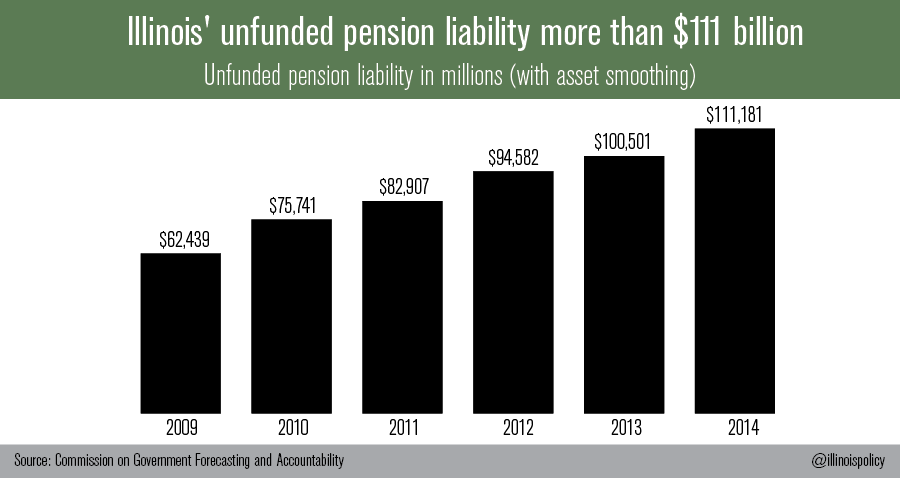 The pensioners and the public sector unions that represent them have taken the position that even these minor changes violate the Illinois Constitution's pension clause, which states that the benefits of a government pension or retirement system "shall not be diminished or impaired." They argue that this guarantee is absolute, and that the General Assembly, therefore, cannot make adjustments to the pension system that would reduce workers' retirement payouts — regardless of the consequences to state and local governments' budgets or the cuts in core government services that paying for retirees' benefits might require.
Illinois Solicitor General Carolyn Shapiro argued before the Court that the state is in a fiscal crisis and unable to provide basic services to its residents. According to Shapiro, this creates an "emergency situation" and necessitates a need for pension reform.
What is the basis for Shapiro's claim that Illinois is in a state of emergency?
Perhaps, it was when we raised income taxes 67% in 2011? Or the day our credit rating tumbled to the worst in the nation despite those tax increases? Maybe it was the moment Governor Pat Quinn put state-funded childcare on the chopping block?
If SB 1 is struck down by the Court, Illinois' pension debt will continue to grow and our severely underfunded pension system will swallow up our state budget. Further credit downgrades will almost certainly follow.  The quality of life of every man, woman and child in the state would decline in the face of looming tax increases and severe budget cuts.
Even if SB 1 is found to be constitutional, the state's journey to solvency will have only begun. While the bill reduces annual cost-of-living-adjustments (COLA's), it does not reduce core pension benefits going forward. "Even if the Supreme Court says the old pension change is fine, it doesn't fix enough of the problem," Governor Rauner told reporters earlier this week.
Ultimately, the state needs to move all current public employees into self-managed 401(k) type plans for future work, while protecting already-earned benefits. This approach will (1) reduce the state's obligation to pay future pension benefits to current employees, and will (2) more likely pass constitutional review even if SB1 is overturned, because it only impacts benefits that have not yet been earned.
No other issue has more extensive and immediate implications for the people of Illinois. Legislators must be ready to act now, regardless of how the Court issues rules on SB 1. Join our Policy Revolution by donating $25, $50, or $100 today.  Together, we can empower state legislators to look past partisan politics and the demands of special interests and toward policy solutions that will rescue Illinois before it's too late.