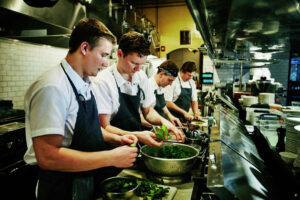 July 24, 2023
By: Katie Clancy
The progressive wing and some self-described socialists on the Chicago City Council, and Mayor Brandon Johnson are trying to forge ahead with a small business-killing ordinance that will drive up costs for local restaurants and result in less take-home pay for service workers. 
Typically, tipped servers have a lower minimum wage (sub-minimum wage) and rely on tips from customers. This system historically benefits both servers and small business owners. Tipped workers nationwide report earning more-than-twice the current federal minimum wage and it results in lower labor costs for owners who operate on the smallest of profit margins.
Furthermore, 97% of tipped workers and 82% of restaurant patrons prefer this system.
Nick Thanas, the owner of Lou Mitchell's, the city stalworth that just celebrated its 100th anniversary, says this new ordinance will "put many restaurants out of business – and force others to reduce staff or get rid of servers altogether."
The restaurant industry is one of the hardest entrepreneurial endeavors one could take on. 40% of new restaurants fail by the end of their first year.
In a free market economy, both business owners and consumers have choices.
If a business owner feels that raising the minimum wage works best for their employees and customers, then that's their choice.
Jesse Iniguez, owner of Back of the Yards Coffee, says they already pay their employees a higher wage. He said, "We're doing it because it makes business sense. When people know that you pay and you treat your employees better, they support your business."
That's the free market at work. Individuals with the power to run their business how they think will best attract great employees and loyal customers.
There's no one-size-fits-all policy that should determine or change the way a business operates.
And that's exactly what the City Council is attempting to do.
City Council should stay out of the business of picking winners and losers in the city's economy and allow people like Thanas and Iniguez to continue operating their businesses that improves the economies in their local communities, respects their dedicated employees, and provides a quality experience for their customers.
Contact your alderman, urging them to vote against any effort to eliminate the tip credit in Chicago and support the small business owners and industry workers that make Chicago the place we know and love.