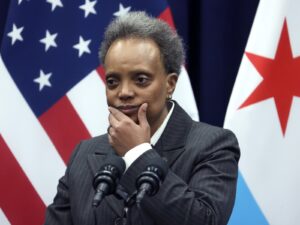 March 1, 2022
By: Katie Clancy
Lori Lightfoot's failed tenure as mayor wasn't because she was "dealt a bad hand." It's not because of race, gender, or sexual identity. And it's not due to her tone-deaf Tik Toks, her infamous haircut during COVID lockdowns, or worst of all, the "Rona-Destroyers."
It's because Chicago families, 66% in fact, feel unsafe in the city today.
Mayor Lightfoot had plenty of opportunities to send a message to those who broke the law and to families worried about their own safety. What did she do instead?
She made police officers the bad guys when she ended foot pursuits and condemned those who didn't adhere to her vaccine mandates. As a result, police morale plummeted, leaving the force with the fewest numbers in years.
She had officers stand down while they were being pelted with objects in front of the Columbus statue, she left the city up for grabs while looters took to the streets during the 2020 riots leaving stores with as much as they could get their hands on and damaging public and private property along the way.
When public safety goes downhill, the economy follows. 2,400 small businesses closed during the COVID-19 pandemic despite their pleas to reopen safely. And when they defied Lightfoot's edicts trying to make ends meet for their families and employees, they were promptly fined.
Michigan Avenue, the city's crown jewel of tourism and commerce, has the highest vacancy rates in ten years. Not to mention the high-profile exodus of top companies such as Citadel, Boeing, Tyson, and others in the Chicagoland area.
And just like some of the current leaders in the statehouse and those who came before her in city government, she refused to stand up to the Chicago Teachers Union. She and CTU leaders kept schools closed for two years.
It's even more egregious knowing that according to the city's Inspector General Report, 77% of the $1.5 Billion spent in federal COVID relief funds was spent on staff salary and benefits, not getting students back in the classroom. In that same IG report, investigators reported 477 cases of sexual misconduct this past year alone at Chicago Public Schools. Not only are students failing to get educated, they are not being protected from sexual misconduct in their school either.
This is the legacy Mayor Lightfoot is leaving behind.
Now Chicagoans must ask themselves, what kind of city do we want to live in?
One that maintains the status quo leaving police officers demoralized? Businesses closing? Students unsafe and uneducated?
Or will they demand a city government that keeps families safe, provides a business-friendly environment, and empowers parents with more choices in their child's education?
Families will have the opportunity to make that choice and change the direction of the city in April.